MROI Vehicles Volunteered to Aid in Relief Effort for Navajo Nation
Now, more than ever, it is vital that we as a community support one another. In this regard, the MROI proudly stepped up to aid the Alamo community by helping to deliver water, an undertaking that took combined efforts of local government, community members, and the quick thinking and driving spirit of Tara Jaramillo, owner of Positive Outcomes, Inc.
On May 1st, a water truck was loaned by the MROI to be filled with water from the nearby community of Magdalena. Socorro County employees then drove the precious cargo to Alamo, a rural community and the largest found in the Alamo Navajo Indian Reservation.
"They have approximately 3000 people living in the area. Many areas must haul water for daily use.  Electricity is not always available nor is cell phone service.  Food insufficiency is often an issue as well," Tara Jaramillo said of the issues currently faced by the people living in Alamo.
These issues were compounded by the spread of CoVid-19, but Jaramillo, Positive Outcomes, Inc, and countless others rose to the challenge to help our fellow New Mexicans. "We began a food distribution for the families whom we serve and quickly had more requests.  Two weeks later we participated in an even larger food distribution campaign with donations from the City of Deming and the NM Wildlife aAssociation. We were able to distribute 3000 pounds of food and water.  Verizon also hopped on board and brought a satellite hotspot tower and distributed 25 phones to the area.  In the weeks that followed, we received donations of gallons of hand sanitizer, water and face masks from Sen. Heinrich and Rep. Torres Small and we began to share stories of homes without water."
One evening, Jaramillo received a phone call from a community member requesting help in getting water to the area.  "Harold Peralto shared that the shelter-in-place and 57 hour curfews were making it almost impossible for people to collect and store water that was gathered at a local windmill.  He asked that I come out and see the area.  Harold's words, 'Water is the only vaccine we know that will stop this.  We need it to sanitize and we need it to live.'"
Jaramillo reached out to Socorro mayor Ravi Bhasker and together they began to formulate a plan that would bring water to the people most in need. Eight 500 gallon water tanks were purchased and calls for help were sent out to New Mexico Tech and Magdalena. It was at this time that the MROI water truck was offered as a means of transport.
Normally, the MROI uses the truck to bring water up to the observatory. "There is no infrastructure that pipes water up to the top of the mountain, so we have to fill up the water truck here in Socorro and drive it up all the way to the top of the mountain and fill the tank up there one truck load of water at a time," says MROI's Lead Engineer of Operations, Isaac Salayandia.  "We occasionally will use the water truck for maintaining the road but that is a bit more of a rare occurrence for us."
"Many wonderful people from the community came together to solve a problem for this area", says Jaramillo. "However, the fight is not over.  Alamo still requires assistance through this pandemic.  This community of 3000 has had 32 cases and lost 2 members.  The needs are vast and the fear immense and they are now within the "hot spot". of New Mexico's fight of Covid-19.  Positive Outcomes continues with distribution of masks and gloves to the clinic and EMS, toilet paper, bleach and food throughout this pandemic and hope to support Alamo to better days in the future."
A link to a donation page and information on how to help were provided by Jaramillo and can be found at the bottom of this page.
Donation site for tribal communities: 
Native American Relief Fund – New Mexico Community Foundation
Localized donations can be made directly by contacting the Alamo Navajo Tribal Council representative Inez Herrera:
Administration:
575.854.2543
Clinic:
575.854.2626
Address:
PO Box 5907

Alamo, NM 87825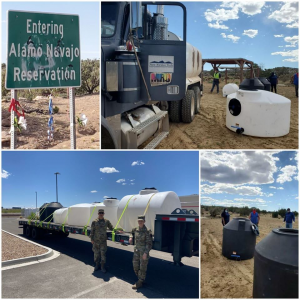 Image Credit: Tara Jaramillo