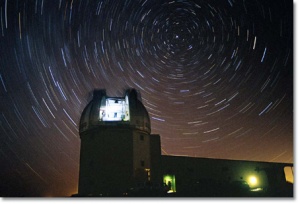 Magdalena Ridge Observatory hosts a number of star parties throughout the year. You may request a star party, check out our annual events that include star parties (below), or see our currently scheduled star parties in our events calendar.
Annual Events

Request A Star Party

If you are interested in either star parties or classroom presentations at New Mexico Tech or your location please contact the Coordinator of Education and Public Outreach, Dr. Daniel A. Klinglesmith at (505) 835-6802.

Star parties at New Mexico Tech will be hosted at the Etscorn Campus Observatory by the New Mexico Tech Astronomy Club. Visitors will be treated to view of the night sky using several optical telescopes designed for direct viewing. Also available will be two computer controlled telescopes with digital cameras. Bring your thumb sticks or writeable CDs and you can take home your own images of the impressive celestial objects.

Star parties at your location are also an option. We will bring the telescopes to you and provide information about the objects that are viewed. Might as well have a classroom presentation while you are at it.

Classroom presentations are suitable for grades 4 through 9 and can be upgraded to include high school classes as needed. The currently available presentations include:
"Scale model of our Solar System" – A self-consistent model of both the sizes of and distances between the objects within our solar system.
"The making of a comet" – A discussion of the nature and origin of comets, including a hands on model of what a comet looks and feels like.
"Meteor impacts on the moon" – Demonstration of creation of lunar craters and factors that determine the size of lunar craters.
"Phase of the moon and Lunar and Solar Eclipses" – Hands on exercises that demonstrate the phases of the moon and the reasons for lunar and solar eclipse.
Any one of these presentations can be completed in standard classroom period of 40 – 60 minutes. If we come to your location a star party would be a natural follow up.


For more information, please contact:
Dr. Daniel A. Klinglesmith
Magdalena Ridge Observatory
New Mexico Tech
801 Leroy Place, Socorro, NM 87801
(505) 835 – 6802, (505) 835 – 6807 FAX, (505) 321 – 1089 Cell