Due to COVID-19 restrictions all public outreach activities are temporarily suspended.
MRO supports education and outreach by hosting public star parties at the Etscorn Campus Observatory on the first Saturday of every month, weather permitting. School and youth groups regularly attend star parties hosted by MRO staff and the New Mexico Tech Astronomy Club. These events provide timely information about and real-time viewing of current astronomical events such as meteor showers and close approaches of the planets.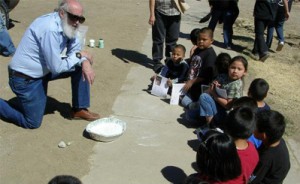 If you are interested in having a star party hosted or having class presentations in your school please visit our Request A Star Party page.
For more information, please contact the NMT Physics Department at 575-835-5328.
801 Leroy Place, Socorro, NM 87801