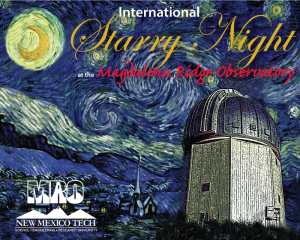 A special event is being planned at the Magdalena Ridge Observatory. OneDarkSky, a professional group dedicated to educating people about light pollution, is organizing an International Starry Night event, set to coincide with the Perseid Meteor Shower on Saturday, August 10th. Magdalena Ridge Observatory is proud to be one of several locations in various countries participating in this public global event.
The event coincides with the annual Regents' Retreat and members of the NMT Board of Regents and their guests will be able to experience an evening at the Observatory.
"I'm excited to be showcasing our facilities to visitors," said Dr. Daniel Lopez, President of New Mexico Tech. "Taking part in an international event like this lets people experience the Magdalena Ridge Observatory and how serious we are about our role in the global astronomical scientific community."
The event will kick off with tours of Magdalena Ridge Observatory's world-class instruments, including the 2.4-meter fast tracking telescope, the Interferometer, and Langmuir Atmospheric Laboratory, all of which are located at 10,600 ft on the spectacular Magdalena Ridge.
Guests are then encouraged to set out blankets and chairs, don warm clothing, and begin watching the cosmic fireworks in night sky. The shower will peak after midnight, so guests should be prepared to stay up late to see the wonder.
Says Dr. Ifan Payne, MRO Program Director, "We are proud to be a part of this international event and thrilled to be able to open to the Observatory to the public."
Tours begin at 5:30 with the following schedule:
5:30-6:30 Tour Langmuir Laboratory
6:30-7:30 Tour MROI
7:30-8:30 Tour 2.4-m Telescope
The Perseid Meteor shower is an annual cosmic event which occurs when Earth's orbit takes it through the debris left by the Swift-Tuttle comet. The debris burning up in Earth's atmosphere produces the dazzling sight we call a meteor shower.
MRO is not doing this alone. Besides the many other observatories participating in the first ever International Starry Night, the National Radio Astronomy Observatory's Very Large Array (VLA) has also lent its support and will be assisting MRO in coordinating this event.
This event is part of ongoing public outreach and education efforts at MRO. Starry Night at the Magdalena Ridge Observatory is free and open to the public. However, registration is closed. To learn more and to register, visit our event page.