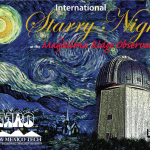 On Saturday, August 10th, the Magdalena Ridge Observatory hosted a star party as part of the global International Starry Night Event. Coinciding with the Perseid Meteor shower, events were held around the world as part of the first International Starry Night, a celebration of starlight. Despite the non cooperating weather, 111 registered guests attended, along with MRO  staff and volunteers  from the New Mexico Tech (NMT) Astronomy Club, NMT Physics Department, Langmuir Laboratory, NMT Board of Regents, NMT President, NMT Cabinet, and the Socorro High School Golf Team.
Tours of the 2.4-meter Telescope and the Interferometer were provided for guests by the MRO staff. Langmuir Laboratory and the NMT Physics Department representatives talked about the lightning research conducted on the mountain including the lightning mapping array, imaging of triggered lightning strikes, and instrumentation that is launched on balloons to measure electric fields.
Judging by the success of this inaugural event, the International Starry Night Event looks set to become an annual event in the MRO calendar.